Introduction
So you actually want to know something about me? Why? Are you bored? Oh well. Just to satisfy your idle curiosity and my manic egotism I'll tell you something about me!!!
I am a 41-year-old guy, who lives close to Stamford, in the East Midlands, England. I was born in somewhere in, Lancashire, England, near the end of September 1979. Most people don't believe me that I was born in England due to my strong Scottish accent. My star sign is Libra. I am 5'9'' tall, 30" waist, with blonde hair, which is sometimes short, sometimes long. I have light brown eyes. Which most people think are very sexy. I just don't see it, myself.
Work
I am currently work part-time has a bar supervisor, which I've been doing since April 2003. Most times I do really like working their. Most of the people are great to work with and some of them are not half bad looking which, of course does also help.
My family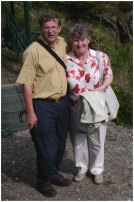 I love my family to bits. At times they really do my head in. But I have no idea what I would do without them. Now that I stay miles away from them. I am in England and they are in Scotland. I have come to realise, just how much they mean to me. At least I know that they are only a phone call or email away.I don't think that my Mum, or Dad, will have ever read this page. But one day if you do. I would just like to say that I really love you both and have no idea what I would do without you. Thanks for being there for me and for always standing by me.I have two brothers one called Craig, who is 27. He works for West Dunbartonshire Council in the planning department. The other is called Douglas, who is 33. He works full time doing IT doing Systems Support.I get on with my younger brother Craig the best. I remember when I first told him that I was gay. He was so cool about it and still is. I can tell him more or less anything. He is always there to listen to me. He has even been to a gay café in Glasgow with me. I am sure that I will get him to go to a gay club at some point, which will be so happy. Just in case you wanted to know. He is 100% straight.
On the other hand my big brother Douglas and me don't really get on that well. We never really have done, we still speak to each other. But I just don't connect with him, like I do with my wee brother.
Being dyslexic
I am dyslexic, which makes it difficult, for me to read and write. This affects about one in 25 people. So that is, why you might notice, a lot of spelling and grammar errors, (I sound like a computer again) on my homepage.
The one and only good thing about being dyslexic is that I, did not do French at Primary or High School. Because I had to do learning support instead. Which I hated doing at the time. But looking back at it now, it did me a lot of good.
Coming out
When I was young, the only image of homosexuality that expressed by others was the negative one. It seemed to me, at the time, that everybody who I had ever met thought being gay was such a terrible thing. I had heard all the jokes and remarks about gay people. I first started to think that I was gay at the age of 13. At this age it did cause me a great amount of difficulties that included feeling suicidal and deeply depressed for a number of years after. I did not come out to myself till I started college in 1996. Even then it still took me 2 years to tell all my friends at college that I was gay, because I had no idea how they would take it. But lucky they all toke it very well. I think that most of them had worked it out, before I told told most of them.People at first didn't want to talk to me about my sexuality in case they upset me, or in case they thought they might offend me in some way. They wanted to ask questions from who I fancied to when I found out I was gay. The truth is I don't mind people asking me about my sexuality, out of curiosity or through education.
I told my parents, that I'm gay in 2001. Lucky they both took it well. Since then they have meet my boyfriend and better still they like him and they are happy that, I am happy.
My main interests
My main interests are collecting model trains, computers, cycling, photography, walking, watching television, listening to the radio (mostly Absolute 80s, Absolute Radio, Absolute Radio 90s and BBC Radio 2), listening to music, surfing the net and designing/updating website's.
Computers
Lots of people say that I spend way to much time using computers, which maybe I do. But just think if I did like computers so much, you would not be reading this website. Also since I am dyslexic I could not really live without using them, they make my life so much easier. If you could see what my spelling, is like when I am not using a computer, you would see why I use them so much. My spelling is a bit crap to say the least. What people did before spell checkers I have no idea at all.
Cycling
I love cycling, it helps keep my legs and bum in great shape, helps keep me fit. And stops me from sitting inside all day. I like cycling so much, that I have three bikes, which are Trek 830, Trek 810 and Marin Muirwoods 29er. The Trek 810, is the one that I use when up in Killearn, Scotland seeing my friends and family. I use Trek 810 and and Marin Muirwoods 29er ones the most, since they live with me in Little Bytham, England. Last year, I also cycled all the way from John O'Groats to Lands End a cycle coving 990 miles in 16 days.
For more about the places that I like cycling to, click here.
Films
I do like watching films, but I would not say that I am film mad. As I only go to the cinema about 3-4 times max in a year. I would go run often, but I don't like having to pay about £5 to see a film, when you can get it on DVD, in most cases for about £14.99 and for that you can see it has often as you want!!
So here is a short list of films that I like: Apollo 13, American Beauty, Beetlejuice, Meet Joe Black, The Bodyguard, Point Break, Bridget Jones's Diary, Sliding Doors, Billy Elliot, Notting Hill, The Fugitive, Go, Good Will Hunting, The Italian Job, Jerry Maguire, Matrix, American Pie, Speed, Titanic, Pretty Woman and many more.
Gay films (updated section: 18/11/2010)
They are so many good gay films out there. I had to add a list for just gay films. Also if you know, of any other ones, that you think, I may like, then contact me.
Here is a list of the gay films, that I would recommend: Beautiful Thing, Brokeback Mountain, Edge Of Seventeen, Get Real, Like It Is, Prom Queen, Shelter, Tan Lines, The History Boys, The Lawamie Project, Trick and Watercolors.
Music
I have way to many CD singles and albums in my collection. I got most of them when I was at Stow college, back in 1998, mainly because HMV was only about an 10 minute walk away and I also had way too much time on my hands, as most students do.This may be a bit sad, but for every big event in my life. They have their own song. When I was in Newcastle seeing Alex it was "Take On Me" by a1. Because it was the first song that I heard when I went into The Powerhouse nightclub with Alex.When I was working at Alcan, it was "Movin to Fast" by Artful Dodger, because most days when I was walking into the centre of Glasgow to get the bus home, they would play that song on BBC Radio 1. When David and me were going out it was "You", by S Club 7, because the song use to always use to be playing on Core the radio station. Since we broke up back in April 2003, I just can't bring myself to listen to that song anymore. When Rob and me were going out. Our song was "How Soon Is Now?", by The Smiths. It's the title music they use in "Charmed" the TV series. Since Rob is deaf, he does not really like music. It become our song since he really likes it. When I hear it on the radio, it always reminds me of him. And all the great times we had together, for the 2 year we were going out. I enjoy listening to music by Mesh 29, Abba, Lily Allen, Belinda Carlisle, The Beatles, Pet Shop Boys, Busted, The Calling, Coldplay, The Divine Comedy, Dido, Embrace, Erasure, Savage Garden, Delta Goodrem, David Gray, Macy Gray, Darren Hayes, Whitney Houston, Elton John, Barenaked Ladies, Madonna, George Michael, Arctic Monkeys, Roxette, Semisonic, Stereophonics, Razorlight, R.E.M, Runrig, Texas, Toploader, Travis, Tina Turner, The Verve, The Wallflowers, Robbie Williams and Will Young.
There is also a lot of music, to put it nicely that I really can't stand, one little bit. They include Bryan Adams, B*Witched, Billie Piper, Spice Girls, Britney Spears. When they come on the radio or TV, I jump up to find something better on, if I had to listen to any of there songs in full, I would go MAD!!
Photography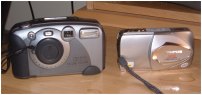 I like photography. It's something that a lot of people say that I am very good at. When I am out and about there is nothing that gives me more fun than cycling and that is taking lots of photos. The best ones can be found on my photos page on this website.
I got my first digital camera in 2000, I paid £500 for it!! It was a 2.0 mega pixel, Kodak DC280 Zoom Digital Camera. Which served me, very well till Christmas 2004, when my Mum and Dad got me a new one. They got me 4.0 mega pixel Olympus C-460 Zoom. That cameras has now been replaced with a Olympus SP-570 UZ, 10.0 mega pixel camera, that I got in June 2008, which cost me £265.39.
Television
When I have the time to sit down and watch TV. I enjoy watching the following programs; 8 Simple Rules, Ally McBeal, Allo, Allo, Are You Being Served?, As Time Goes By, Casualty, Doctor Who, Holby City, My Family, Neighbours, Quantum Leap, Silent Witness, The Simpsons, The West Wing, The X Files and also Yes Minister.
The End...
I hope that you have enjoyed reading it, as much as I have enjoyed writing it. It was amazing just how much I found out about myself, while I was writing it.

Have any comments about, this page? If yes, please contact me.